Diffusion of Gases in Lungs and Tissues
Charles L. Webber, Jr., Ph.D.
Learning Objectives: You should be able to:
Trace the pathways molecules of oxygen and carbon dioxide must traverse as pulmonary capillary blood become arterialized.
Contrast the diffusion constant for any gas versus diffusing capacity of the lung in mathematical terms of Fick's law of diffusion.
Plot as a function of time the change in blood P02 and PCO2 as venous blood flows through the lungs.
List and explain four different causes of arterial hypoxemia found in abnormal human pathophysiology.
Rhoades & Tanner Text Readings: Chapter 21, Pages 386-391, 395-398

Diffusion Path Diffusion Capacity Alveolar Gas Partial Pressure A-a Gradient Hypoxemia MainMenu

Diffusion Pathway
Diffusion

passive diffusion and catalytic action of carbonic anhydrase
facilitated diffusion (cytochrome P-450 fixed site O2 and CO carrier)

Respiratory Membrane and Barriers to Diffusion
Diffusion Path Diffusion Capacity Alveolar Gas Partial Pressure A-a Gradient Hypoxemia MainMenu
Diffusing Capacity of the Lung
Gas Fluxes Across a Resistive Barrier

gas = Pgas * (1 / R)
gas = Pgas * G
where:

= diffusive gas flow (mL/min)
R = resistance to diffusive gas flow (mm Hg/[mL/min])
G = conductance to diffusive gas flow ([mL/min]/mm Hg)
P = (PP1gas - PP2gas) pressure gradient (mm Hg)
PP1 & PP2 = partial pressures of given gas species on either side of membrane

Expansion of Fick's Law

gas = Pgas * G
gas = Pgas * DL gas
gas = Pgas * (areamem/thicknessmem) * Dgas
gas = Pgas * (areamem/thicknessmem) * (sol.gas/ mol. weightgas)

DL gas = diffusing capacity of the lung to the gas
Dgas = diffusion constant for the gas

Factors Favoring High Gas Conductance (DL gas)

gaseous phase (1/ mol. weightgas)

low molecular weight of gas
short diffusion path in gaseous phase

respiratory membrane phase (areamem/thicknessmem)

thin membrane (t = 0.2-1.0 µm)
large gas exchange area (A = 70 m2 = 750 feet2)
high lipid solubility of gas

aqueous phase (sol.gas)

high fluid solubility
fast reaction rate with hemoglobin
small pulmonary capillary diameter (8 µm)
large red blood cell diameter (5-8 µm)
Diffusion Path Diffusion Capacity Alveolar Gas Partial Pressure A-a Gradient Hypoxemia MainMenu
Alveolar Gas Partial Pressure
1. Dalton's Law of Partial Pressures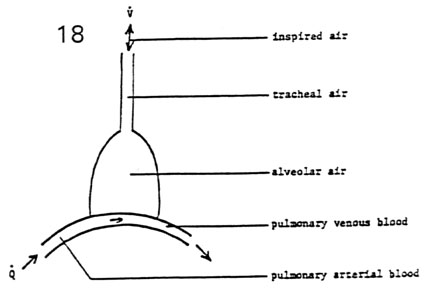 Ptotal = P1 + P2 + P3 for a three-gas mixture
P3/Ptotal = %P3 present in total gas mixture
Ptotal = Patm for dry air (e.g. atmosphere)
Ptotal = Patm - PH2O for 100% humidified air (e.g. trachea)
PH2O = 47 mm Hg at 37°C
atmospheric %O2 = 20.9%
atmospheric %CO2 = 0.03%

Physiologic
Region
PO2
(mm Hg)
PCO2
(mm Hg)
inspired air
159
0.23
trachea
149
0.21
alveolus
100
40
pulmonary vein
95
40
pulmonary artery
40
46

important notes

pulmonary artery (high pressure) contains deoxygenated blood (from systemic veins)
pulmonary vein (low pressure) contains oxygenated blood (to systemic arteries)
PAO2 can be computed from the alveolar gas equation
2. Variations in Alveolar Ventilation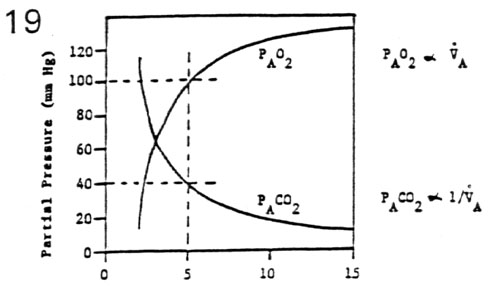 A = f * (VT - VD) = (10/min) * (0.65 L - 0.15 L) = 5.0 L/min
mean PAO2 A and mean PACO2 1/ A
A above metabolic demand results in hyperventilation with PAO2 and PACO2
A below metabolic demand results in hypoventilation with PAO2 and PACO2
such changes in ventilatory PACO2 are important for maintaining acid/base balance
Diffusion Path Diffusion Capacity Alveolar Gas Partial Pressure A-a Gradient Hypoxemia MainMenu
Alveolar-Arterial Gradient
Red Blood Cell Transit Time

Ttransit = pulmonary capillary volume / cardiac output
Ttransit = (75 mL) * (60 sec/min) / (6000 mL/min) = 0.75 sec
normally, gas equilibrations across the alveolocapillary membrane are complete in 0.25 sec
the safety factor for gas equilibration is 0.5 sec or 2/3 of the cap length
abnormal gas equilibrations

Ttrans (< 0.25 sec) due to pulmonary capillary volume or cardiac output
respiratory membrane conductance (DLgas)

Anatomical and Physiological Shunts

systemic arterial gas tensions are not exactly matched to mean alveolar gas values
PaO2 < PAO2 by 5 mm Hg and PACO2 > PACO2 by 0.5 mm Hg (A-a gradient)
A-a gradient is attributed shunt flow bypassing the gas exchange zone

anatomical shunts: post-pulmonary shunts, bronchial circulation, ventricular septal defects
physiological shunts: ventilation/perfusion inequalities

clinically, PaO2 > 85 mm Hg are considered normal
Diffusion Path Diffusion Capacity Alveolar Gas Partial Pressure A-a Gradient Hypoxemia MainMenu
Arterial Hypoxemia
Hypoventilation

problem: V A PaO2 and CaO2 with no change in A-a gradient

nervous system defects (CNS, NM junction)
toxic drug effects (barbiturates, morphine)

solution: V A with possible O2 supplementation

mechanical ventilation
respiratory stimulants

Diffusion Impairment

problem: DLO2 PaO2 and CaO2 with A-a gradient

interstitial fibrosis ( thickness of alveolar capillary membrane)
interstitial pneumonia ( thickness of alveolar cap membrane)
pulmonary edema with alveolar flooding ( area gas exchange)

solution: PAO2, but beware of oxygen toxicity

cute 100% O2 (< 2 days) induces pulmonary capillary permeability and alveolar edema
chronic 100% O2 (> 2 days) induces interstitial fibrosis & Clung

Anatomical Shunt

problem: venous admixture PaO2 & CaO2 with A-a gradient

normal shunts: venous drainage from thebesian & bronchial circ
abnormal shunts: atrial or septal defects, patent ductus arteriosus

solution: surgical repair of arterial-venous anastomosis

oxygen administration will not help (diagnostic test for shunt)
PaCO2 may not be raised above normal (40 mm Hg)

Ventilation/Perfusion Inequality

problem: V A/Q PaO2 and CaO2

chronic obstructive pulmonary disease (COPD) (emphysema, bronchitis)
pulmonary embolism

solution: PAO2 but be aware of induced physiologic shunt blood flow

very low V A/Q ratio alveolar units may become atelectic
PaO2 is still improved with oxygen supplementation
Diffusion Path Diffusion Capacity Alveolar Gas Partial Pressure A-a Gradient Hypoxemia MainMenu